Follow Your Favorites!
Sign in
to get custom notifications of new products!

Featured Product
Revenge of the Deceiver
by Paizo
Revenge of the Deceiver is a Pathfinder Infinite tale of Scribbleface the Exiled Goblin and Chissilinath the Reincarnated. Set in Aerduin's Folly, this short story follows a reincarnated serpentfolk and their guide, an exiled goblin, on their mission to forge an alliance with an undead ruler.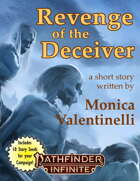 | Products found in this section... | Sort by: |
| --- | --- |
| | | |
| --- | --- | --- |
| Title | Publisher | Price |
| Have you ever wondered what the deal is with games like Dungeons & Dragons and Pathfinder? What are they? What are RPGs? How do they work? How do you play them? And what's a Game Master anyway? Well, wonder no longer. The Angry Game Master is here to explain it all. Game Angry: How to RPG the Angry Way will introduce you to the amazing world of table-top role-playing... [click here for more] | Angry Games, Inc. | $15.00 |
| Revenge of the Deceiver is a Pathfinder Infinite tale of Scribbleface the Exiled Goblin and Chissilinath the Reincarnated. Set in Aerduin's Folly, this short story follows a reincarnated serpentfolk and their guide, an exiled goblin, on their mission to forge an alliance with an undead ruler. Revenge of the Deceiver includes: short story five goblin... [click here for more] | Paizo | $1.99 |
| Health Blight blocks enemies from healing! Vile Serpent creates a snake made of acid that extends from your hand! Language Barrier makes your enemies unable to communicate! Steal Enchantment weakens enemy weapons and strengthens your own! Holy Water Arrow...that one's self-explanatory... This book contains 30 spells for every spellcasting class. Some are different takes on direct damage. Some are... [click here for more] | Dimension Comics | $0.59 |
| An ancient evil lurking in the basement of the Cliffside Manor taints the land. It turns pets and farm animals into hunters, and brings out the dark side in us all. What secrets are being hidden by the genteel hotel owner and the hotel's ghostly inhabitant? Before they were epic heroes, they were regular people like you and I. This adventure will make heroes out of them. Characters begin without the... [click here for more] | Dimension Comics | $0.59 |
| Author: Quentin Hudspeth Page Count: 25 Use: Random treasure item with 60 new spells for your d20 campaign Morgenstern's Spellbook is a collection of 60 wholly original spells ranging from 0th to 9th level and spanning 12 classes of spellcaster, including Sorcerer, Wizard, Cleric, Druid and much more. Designed to be used as a treasure item, it can also be used for a... [click here for more] | Hudspeth Games | Pay What You Want |
| When the half-vampire protector of the village of Shoel races to rescue a child stolen away by ghouls, she discovers their more dastardly intent. Can she overcome the odds stacked against her or will she succumb to her darker side? What is her vampiric father's stake in the outcome? Pawn, Deception and Sacrifice is the first in the Shadowsfall Legends line of short... [click here for more] | Jon Brazer Enterprises | $1.00 |
| The Gambler always plays the odds, and (almost) always wins. Luck is definitely on his side, and if it's not, he'll cheat a little. He has the ability to reroll die that don't come up in his favor. If that wasn't enough, he can also manipulate critical failures, find money, dodge certain attacks, and improve skills. Most character classes would benefit from at least 1 rank in Gambler. Staying... [click here for more] | Dimension Comics | $0.59 |
| When a group of zombie hunters encounters a walker that's just a little too fresh, the fetchling ranger Sebesten discovers far more danger in the Outlands than he expected. Can he evade the dead that walk? Will he discover what terrible force is behind this menace—and can he make it back to Blackbat in time to warn the stronghold of the approaching horde? Find out more in this exciting new Shadowsfall... [click here for more] | Jon Brazer Enterprises | $1.00 |
| Resnet's Spellbook is a collection of 75 wholly original spells ranging from 0th to 9th level. The collection spans 12 classes of spellcaster — including Bard, Sorcerer, Wizard, Cleric, Druid and more — and features 8 new bard-only spells. Designed to be used as a treasure item, it can also be used for a la carte spell selection. Released under the Open Gaming License. From the back cover: In... [click here for more] | Hudspeth Games | Pay What You Want |
| The "Worshipper of Weapons" has devoted his life to one weapon, to the exclusion of all others. In giving up every other weapon, the Sword Shaman gains a spiritual bond with his sword (or melee weapon of his choice). He can throw it, control it from afar, and even absorb spells into it. This Prestige Class comes with all the information you need to create this character. It also includes a sample... [click here for more] | Dimension Comics | $0.59 |
| The Gambler always plays the odds, and (almost) always wins. Luck is definitely on his side, and if it's not, he'll cheat a little. He has the ability to reroll die that don't come up in his favor. If that wasn't enough, he can also manipulate critical failures, find money, dodge certain attacks, and improve skills. Most character classes would benefit from at least 1 rank in Gambler. Staying... [click here for more] | Dimension Comics | $0.59 |
| This special bundle product contains the following titles. The Winter Warrior: A Prestige Class Regular price: $0.99 Bundle price: $0.50 Format: Watermarked PDF Born and raised in a harsh, hostile climate, the Winter Warrior has learned to adapt, eventually developing an immunity to cold. She can blast enemies with freezing cold and ice shards, then move in for... [click here for more] | Dimension Comics | $3.96 $2.00 |