Follow Your Favorites!
Sign in
to get custom notifications of new products!

Featured Product
The Book of Contemporary Magical Things
by Stygian Fox

Hidden from view, away from mundane society, a group of very special collectors, known as
Curators, travel the world looking for the many and wondrous magical artefacts that seem to have just appeared in 1945.
While some seek to use those artefacts to better mankind behind the veil of secrecy, others seek to utilise them to dominate, murder, and destroy.
W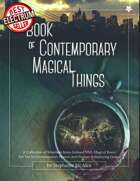 | Products found in this section... | Sort by: |
| --- | --- |
| | | |
| --- | --- | --- |
| Title | Publisher | Price |
| Welcome to Arium: Create, a simple game with infinite possibilities. this RPG worldbuilding toolkit runs on pure storytelling, imagination, and teamwork. In Arium: Create, you'll find everything you need to guarantee that all of the people at your table love the story your group is telling and the world they are doing it in Arium: Create was born from... [click here for more] | Adept Icarus | $7.50 |
| Love & Justice Volume 1 Love is a powerful emotion. And when you add in aliens, robots, radiation, magic, mutants, mad science, forgotten gods, and ancient curses, it becomes a SUPERpowerful force. Super-powered love leads to comedy, intrigue, risk-taking, sacrifice, and adventure! And Love & Justice is your guidebook to romance, love, and sex in superhero roleplaying games. Illustrated... [click here for more] | Misfit Studios | $3.99 |
| Do you play superhero or other modern-setting tabletop RPGs? Cut down your gamemaster prep with 48 1D100 random tables. Speed up play at the gaming table with random tables like Mission Hooks, Random Encounters, Items in a Ship Cargo Hold, Items in a Car, Books, Items in a Warehouse, Names, and much more all geared for tabletop RPGs with modern settings. Need more random tables... [click here for more] | dicegeeks | $4.99 $2.99 |
| Love & Justice Volume 2 Love is a powerful emotion. And when you add in aliens, robots, radiation, magic, mutants, mad science, forgotten gods, and ancient curses, it becomes a SUPERpowerful force. Super-powered love leads to comedy, intrigue, risk-taking, sacrifice, and adventure! And Love & Justice is your guidebook to romance, love, and sex in superhero roleplaying games. Illustrated... [click here for more] | Misfit Studios | $3.99 |
| Genial Jack is a serialized setting of nautical weirdness and whimsy – cursed sailors, mutant shark-people, lost treasures, mysterious shipwrecks, mythic monstrosities, and, of course, the Godwhale Jack himself, a whale the size of a mountain. This 69-page volume details the endless darkness of Jack's Entrails, the bizarrely brachiating intestines of the Godwhale: a living labyrinth... [click here for more] | Lost Pages | $4.99 |
| Genial Jack is a serialized setting of nautical weirdness and whimsy – horrors and wonders from the deep, mysterious isles, absurd pirates, surreal monsters, sentient storms, and, of course, a whale the size of a mountain. Each volume will reveal some aspect of the bizarre seascape traversed by Genial Jack, beginning with an account of Jackburg itself – the ramshackle, symbiotic... [click here for more] | Lost Pages | $4.99 |
| In space, nobody can hear you... Play more than a dozen amazing games by a co-op design studio full of some of the freshest and weirdest voices in RPGs! The short games digest is the first project of the San Jenaro Co-op. With over 11 full fantastic games, the Short Games Digest hits an eclectic mix of stories and settings. Lovelorn Knights, dice-playing gods, retro future space operas,... [click here for more] | Far Horizons Co-op | $10.00 |
| Purchasing note: The POD printed softcover book is printed deliberately with a black and white interior (full color cover). The print options lists as "Standard Color" because this option is printed on higher quality paper with resulting higher quality images. An Ohio professor suddenly goes missing, abducted from his own home by gun-toting thugs. His two children head for... [click here for more] | Past Adventures | $7.00 $6.99 |
| Facing the Titan is also available in english. « Nous sommes la Compagnie. Chasseurs, guerrières, mages, érudites, nobles, barbares, nous avons été rassemblés dans un unique but : mettre fin au règne du Titan. Cet être gigantesque a provoqué ruines et désolation à notre monde, depuis des générations et des générations. Progrès et merveilles sont sans... [click here for more] | Gulix | $13.80 $11.04 |
| Tomes of Cthulhu is a generic supplement for horror games based on the works of H. P. Lovecraft. It describes in detail 20 different books, plus alternative editions and original sources for some of them, of esoteric and sometimes forbidden knowledge that are a common theme in Lovecraftian horror. Each book has its name, and author, if known, as well as details on its appearance, when and how it was... [click here for more] | Azukail Games | $2.99 $2.09 |
| In this issue:  Age of Sigmar, Alyx: An AI's Guide to Love and Murder, Black Void, Chivalry & Sorcery, Dark Alliance, Fading Suns, Ginny Di, Loki, Marvel Cinematic Universe, Rangers of Shadow Deep, the Harm Tree, Wildermyth's Nate Austin ... [click here for more] | Parallel Publishing | $5.50 |
| The Book of Contemporary Magical Things is 134 pages of modern, seemingly mundane, items that are imbued with magical power. Some are quite minor; A tuning fork that will quiet a room, a pair cufflinks that tell you the name and family details of those with whom you shake hands, a set of polyhedral dice that temporarily change the fortune of the roller, but some are spectacular, or dangerously... [click here for more] | Stygian Fox | $9.99 $6.99 |
| In this issue:  Brent A. Harris, the art of Black Void, Chivalry & Sorcery, Gamesmasterclass, original fiction, Rangers of Shadow Deep, Treantmonk, War in the Heavens, Wildermyth ... [click here for more] | Parallel Publishing | $6.19 |
| Welcome to the San Jenaro Short Games Digest, Volume 2! For this fall's issue, we're bringing you 21, count 'em, new games!  We've got games for everyone in here, of all sorts of styles. The San Jenaro Co-Op is a fully operational machine of game making, and we want you along for the ride. Check out some of what we've got in store for you: In Tina Falcon's Sponsored* Skating RPG,... [click here for more] | Far Horizons Co-op | $10.00 |
| 'I have travelled the world and collected much that is hidden. Within these pages are truths, lies and fiction as told to me by occultists, practitioners and scholars of magic, collected and retold in, as far as is possible, their own words. These tales and fragments come from the old streets of London, the fabled souks of Morocco, the back alleys of New Orleans and the boulevards of Paris.... [click here for more] | Fire Ruby Designs | $13.63 $9.62 |
| The Book of Contemporary Magical Places is 140 pages of modern, seemingly mundane, locations that are imbued with magical power. Some are quite minor; A a haunted street, a subway platform that can translocate, but some are spectacular, or dangerously malevolent. From minor corners of the planet to Earth shattering pocket universes, these places are there for you to use as a Gamesmaster... [click here for more] | Stygian Fox | $9.99 $6.99 |
| Other Worlds is a roleplaying game of heroic action and adventure for any genre. The game is driven by description: descriptions of characters, details of actions, and dramatic visualisations. Numbers and dice rolls are secondary to the action; in fact, you will find that in Other Worlds the rules serve to emphasise the story and increase the drama rather than getting in their way. This... [click here for more] | Signal 13 | $14.99 |
| Every Magic-user deserves a traveling Spellbook! Can be used with Any Roleplaying System! Designed to be as universal as possible, the Roleplayer's Arcane Spellbook provides a unique journal of comprehensive forms covering all the most important details. 20 spells pages each for 0-9th level spells Detailed cataloging sheets for spell components All your magic equipment, from... [click here for more] | Fat Goblin Games | $2.95 $2.07 |
| One of the best parts of roleplaying is the opportunity to explore strange, new worlds. Now Chessboards: Planes of Possibility provides gamemasters with the first organized, flexible system for designing and evolving game environments. This fun-to-read book covers such topics as the various types of planes and their relationships, planar growth cycles, wways to planes, and several varieties... [click here for more] | Hostile Work Environment | $12.95 $9.99 |
| In this issue:  Dennis E. Taylor, Black Void, Chivalry & Sorcery, Dungeons & Dragons, original fiction, Professor Elemental, Rangers of Shadow Deep, Ten Low, Total Warhammer, Veilwraith ... [click here for more] | Parallel Publishing | $6.19 |
| An all-ages storytelling roleplaying game inspired by the movies of the 80's and shows such as Stranger Things. I originally designed this as a game to play with my daughter who was really wanting to try gaming but was a bit too young to take in all of the mechanics. It then developed into this, which was playtested in both a school and at a few small, daring tables. It's designed to be child-friendly... [click here for more] | 77studios | Pay What You Want |
| The Primal OrderTM reigns supreme. Also known as TPO, The Primal Order is the premiere resource for using religions and deities effectively and creatively in roleplaying games. Explore how deities gain power, learn why they need worshippers and temples, discover why they provide their priests with spells, and much more. TPO also offers detailed guidelines for the creation of artifacts,... [click here for more] | Hostile Work Environment | $20.00 $9.99 |
| "Slowly but surely withal moveth the might of the gods." — Euripides Even in divine games of chess, the action begins with a clash of pawns. In Pawns: The Opening Move, the first supporting product for The Primal Order, you will find a collection of powerful minions, monsters, and other entitles waiting to help you add some extra excitement and challenge to... [click here for more] | Hostile Work Environment | $15.00 $9.99 |
| Welcome to the San Jenaro Short Games Digest, Volume 3! For this Winter's issue, we tackled our first "theme" issue, all the games herein are great to play as a family, every game within should be appropriate for, but certainly not limited to, children! It's a fairly loose theme and we'd love to hear your thoughts! The San Jenaro Co-Op is a fully operational machine of game making, and we want you... [click here for more] | Far Horizons Co-op | $10.00 |
| "When half-gods go, the gods arrive." —Emerson Everyone who's read The Primal Order knows that deities need to build strong religlons. In Knights: Strategies in Motion, you'll see how three flctional deities approached this task. For those Interested in the mortal side of things, there are notes on worshiper lifestyles, sacraments, duties of priesthood,... [click here for more] | Hostile Work Environment | $15.00 $9.99 |
| Every Cleric deserves a traveling Prayerbook! Can be used with Any Roleplaying System! Designed to be as universal as possible, the Roleplayer's Divine Prayerbook provides a unique journal of comprehensive forms covering all the most important details. prayer pages each for 0-9th level spells Detailed forms for tracking deities & demigods Design and note important churches/temples,... [click here for more] | Fat Goblin Games | $2.95 $2.07 |
| In this issue:  Farsight, Black Void, languages in Chivalry & Sorcery, D&D, Gamesmasterclass, Sentinel Comics RPG, Dark Peaks, Peter F. Hamilton, Kitra, Land of the Rising Sun, Leigh Russell, Crusader Kings III ... [click here for more] | Parallel Publishing | $8.52 $6.19 |
| GO ON, BE A HERO... You know you want to. How often do you get a chance to race a supersonic jet, take a rocket propelled grenade smack on the chin and crack a smile, or arrive just in the nick of time to save the entire universe? Never right? Well now you can. Play Mighty Six, the super powered roleplaying game compatible... [click here for more] | Mighty Six Enterprises | $14.99 |
| ROCK FOREVER! There's no such thing as "easy" in the music world. Every gig's a battle, and the folks who dream big and live large are the only ones left standing when the morning comes. But for the these kings and queens of the nighttime world, music is Divinity - a cruel yet irresistable god whose touch drives artists gleefully mad. To feel that blessing, you'll push... [click here for more] | Quiet Thunder Productions | $15.00 |
| The "d66" table is an amazing invention that lets you generate one of 36 possible results using a pair of ordinary six-sided dice. It has been a key part of many different RPGs, and now Ewen Cluney (who has the dubious distinction of being the translator of Maid: The Role-Playing Game) has amassed a collection of tables for use in all manner of RPGs and other creative endeavors.... [click here for more] | Yaruki Zero Games | $12.00 $8.40 |
| You have an agenda. Together, you control a powerful organisation; it might be a company, a conspiracy, cult or corporation. You control vast resources over a global powerbase. You employ teams of specialists with very particular skill-sets to protect your secrets. Your agenda might be anything, world domination, the defence of the planet, vast wealth or just unlimited rice pudding. What you... [click here for more] | Corone Design | $8.00 $5.60 |
| A penguin roleplaying game about everyday heroes and fate as an outcast, reserved for those who are in any way different from their fellows. Inspired by western movies, Valley of Eternity features a bit of comedy with serious undertones. Designed mostly for one-shot adventures, Valley of Eternity is a good entry-level roleplaying game with a simple setting and deep... [click here for more] | Vagrant Workshop | $14.95 $10.47 |
| In this issue:  Anachrony, Beyond the Black Sea, Black Void, Chivalry & Sorcery, Cyberpunk RED, D&D, The Elder Scrolls, The Falcon and the Winter Soldier, Peter F. Hamilton, Leigh Russell, original fiction, Raising Hell ... [click here for more] | Parallel Publishing | $8.52 $6.19 |
| The inaugural issue of Parallel Worlds Magazine, originally published in September 2019 In this issue: Lovecraft, Blood of an Exile, Star Citizen, Tiny Epic Mechs, No Man's Sky, Call of Cthulhu, Elite Dangerous, Dungeons & Dragons, Hollow Knight, UK Games Expo, original fiction, Dark Souls, and more. ... [click here for more] | Parallel Publishing | $8.52 $2.06 |
| Welcome to the San Jenaro Short Games Digest, Volume 5! FIVE!? Our fifth volume comes with some new and amazing faces involved! So many amazing people making such cool games! The San Jenaro Co-Op is out here bringing fresh and exciting games at accessible prices! Please tell your friends! Check out some of what we've got in store for you: Crying Fantasy Friends, a quiet game about... [click here for more] | Far Horizons Co-op | $10.00 |
| Its Fall2020 and that means another volume of the Short Games Digest, which makes 6! We bring you another themed issue this time, focusing on building better worlds, reclaiming and reforming institutions and taking us beyond conflict simulation! Check out some of what we've got in store for you: In Drama Kids, gain supernatural powers and surpass the most challenging mission in... [click here for more] | Far Horizons Co-op | $10.00 |
| In this issue:  Bill Bridges, Chivalry & Sorcery, Dark Souls, Disco Elysium, Dishonored, Dungeons & Dragons 5E, Fading Suns: Pax Alexius, Gamesmasterclass, Haven, Harvest,  Mars, Mini of the month, Pillars of Eternity, ShadowRun Returns, WandaVision, Wasteland 2  ... [click here for more] | Parallel Publishing | $8.52 $6.19 |
| The second Sourcebook for The Squared Circle Wrestling RPG visits Japan and details the wrestling style found there. This book also brings a more extreme and ultra-violent version of Hardcore wrestling, adding new weapons, rules and Deathmatches. Introduces new classes and skills as well as new game mechanics. This mega-sourcebook also adds the biggest amount of moves to the game since the original... [click here for more] | Day Dreamer Interactive | $8.50 |
| The Print Edition of the 2014One Page Dungeon Compendium featuring 109 One Page Dungeon Contest entries spanning several genres including modern horror, sci-fi, and of course classic fantasy.  The submissions are fairly system neutral by design, and many can be easily dropped into your existing campaign! 600 DPI Tiff images were used to create the print edtion for image and text clarity. ... [click here for more] | Shattered Pike Studio | $7.99 |
| Eons is a story roleplaying game about inexplicable horror and marginal science. Players take on the roles of fringecraft investigators, journalist, scientists, and theorists. Exploring nearly random events, the characters must piece together random occurrences and decipher hidden secrets to stop horrors beyond the veil from corrupting our world. The Protocol game series uses vignettes, interrogations,... [click here for more] | post world games | $3.95 $2.77 |
| Did you know that an angel wrote a history of the future on a series of silver tablets, and buried them in Alaska? That Thomas Edison designed a machine to communicate with the dead, Ben Franklin built a robot, and that one of Jimi Hendrix's guitars can shoot fire? Do you know why occultists are willing to pay top dollar for a shard of the plane Buddy Holly died in? American Artifacts: The Complete... [click here for more] | Hex Games | $10.00 |
| FEAR THE NIGHT FOR IT HAS FANGS! The city is a place of nightmare and darkness, where the worst fears of mortals' hearts come alive. Creatures driven by their need to feed upon us like lowly cattle stalk the shadows. If you choose to come here, mortal, it will be your end! Vampires have appeared in legend for time immemorial, throughout all ages of history. Vampire... [click here for more] | Vagrant Workshop | $9.95 $6.97 |
| Its Winter 2020 and that means another volume of the Short Games Digest, this is our SEVENTH digest cram packed with 8 awesome games. In Incident at Bald Mountain work your way through a twice cursed mountain, fighting battles and forging friendships Get through the graveyard shift, or die trying. Survive 8 hours of faceless corporativism in ART. Did we mention... [click here for more] | Far Horizons Co-op | $10.00 |
| In this issue: Netflix's Dark, Dragonslayer, original fiction, Adrian Tchaikovsky, Worldcon, Star Wars: Outer Rim, Kickstarter Roundup, global government, Star Trek, roleplaying games, World of Warcraft, Half-Life, Magicka, and more. ... [click here for more] | Parallel Publishing | $8.52 $2.06 |
| In this issue: Chivalry & Sorcery, Cyberpunk 2077, Dungeons & Dragons, Fahrenheit 451, visitor's guide to Faerûn, Gamesmasterclass, mini of the month, original fiction, Ready Player Two, tabletop round-up, Tiny Epic Dinosaurs ... [click here for more] | Parallel Publishing | $8.52 $6.19 |
| In this issue, we revisit Babylon 5 to find out why it's still relevant, take sides in the culture war in our discussion on The Rise of Skywalker, get to know the organisers of the UK's largest wargaming convention, look back at nearly 100 years of Amazing Stories Magazine, choose our own adventure, buckle up for a BattleTech retrospective, and take a look at the biggest structures in fiction. ... [click here for more] | Parallel Publishing | $8.52 $2.06 |
| The Fourth sourcebook for the Squared Circle Wrestling RPG, this time we explore the world of female wrestling. Will you play a Vixen who uses her sex appeal to get the fans wrapped around her little finger...giving her the power to claim the victory? Or will you play a wrestler who puts more emphasis on training, ability and hard work to lead her through the world of professional wrestling. Women's... [click here for more] | Day Dreamer Interactive | $10.50 |
| "Something inside the walls was breathing. Calling for me in the night. I couldn't sleep or wake. I was trapped somewhere between consciousness and death. I knew whatever was calling for me wanted one over the other." Dead Things in the Walls is a roleplaying game about modern horror and the price we pay for greed. Based on films like Dark Water, The Fog, The Grudge, Hellraiser, and Ringu, this... [click here for more] | post world games | $3.95 $2.77 |
| In this issue we interview the marvellous Carsten Damm of Vagrant Workshop, learn how to get into wargaming on a budget, revisit Homeworld, one of video gaming's most beloved franchises, sink our teeth into Netflix' The Dark Crystal, pan for gold amid the torrents of self-published literature, and find out why Terraria is a modern 2D classic. We review Duchamp Versus Einstein, Space Base, and Beyond... [click here for more] | Parallel Publishing | $8.52 $2.06 |
| In this issue, we interview Bob Salley, the creator of graphic novel Broken Gargoyles, and sci-fi new wave veteran Michael Butterworth. We find out why DropZone Commander is such a great miniatures game, whether Cowboy Bebop Space Serenade is worth your time, and what's been going on in Destiny this year. We review strange new roleplaying game PARIAH, horror anime The Promised Neverland, and Aliya... [click here for more] | Parallel Publishing | $8.52 $6.19 |